Heating, Ventilation and Air Conditioning (HVAC) retrofit design in OptEEmAL
31.08.2017

– Detailed design of heating, ventilation and air conditioning (HVAC) systems and their control strategies is a key feature differentiating the OptEEmAL platform from state-of-the-art design tools. United Technologies Research Centre Ireland, Ltd. (UTRC Ireland) is bringing industrial experience and expertise into the development process of the OptEEmAL platform to implement HVAC and control designs guaranteeing optimal district operation. In this interview, Hassan Ridouane, PhD, Staff Research Scientist – Energy Analysis and Marcin Cychowski, PhD, Project Leader – Controls, are explaining how.

What is the OptEEmAL approach to HVAC retrofit design?

The OptEEmAL platform will assess the current state of districts, which are provided by the platform user, including existing HVAC systems. Based on this assessment, the platform will suggest equipment replacements, upgrades or new installations that offer higher efficiency and improved comfort while meeting user objectives. These systems are available in the Energy Conservation Measures (ECMs) catalogue within the platform. The focus is on a wide range of systems, including boilers, heat pumps, combined heat and power (CHP), chillers, variable refrigerant flow, water loops and terminal units. The platform will use tools to assess and calculate the performance of these systems based on indicators that matter to the user, such as comfort improvement, energy savings, and investment payback period. Efficient operation of these systems is guaranteed by state-of-the-art control strategies offered by the platform. Whether a district or building has a single system (a boiler), multiple systems of one kind (multiple boilers) or a mixture of systems (boiler, CHP, chiller, etc.), efficient operation is maintained through the selection of appropriate control strategies that suit the HVAC system configuration.

During the calculation period, these controls are modelled to make informed decisions every 15 minutes to operate the systems such that the required heating/cooling is provided at the lowest cost without sacrificing occupant comfort. The HVAC design is integrated within the platform.

As an example, the accompanying picture shows a district of buildings heated by a boiler plant comprising four boilers. From the HVAC design perspective, the OptEEmAL platform will evaluate the performance of the existing boilers and, if needed, suggest efficient boiler replacements and installation of control strategies to efficiently operate the boilers based on district heating demand.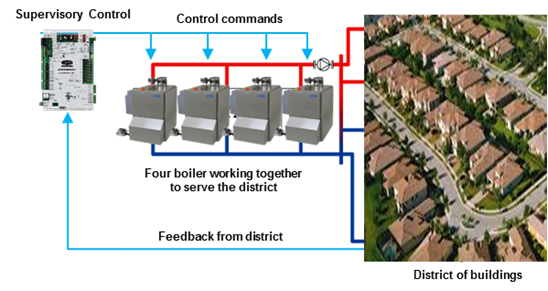 About United Technologies Research Centre Ireland:
United Technologies Corp.(UTC) provides a broad range of high-technology products and services to the global aerospace and building systems industries and ranks among the world's most respected and innovative companies.
As the innovation hub of United Technologies Corp. (UTC), United Technologies Research Center (UTRC)supports the development of new technologies and capabilities across the company and collaborates with external research organizations, universities and government agencies globally to push the boundaries of science and technology. Further, UTRC leads the monetisation of UTC's intellectual property through business model innovation. UTRC is headquartered in East Hartford, Connecticut, with additional operations at its affiliate in Berkeley, California, and its subsidiaries in Shanghai, China; Rome, Italy; and Cork, Ireland.
UTRC Ireland, established in 2009, operates as one of two UTRC European locations. As part of UTRC's mission to expand its collaborative activities while leveraging a global network of innovation, UTRC Ireland engages with universities, research institutes and industry leaders to realise the next generation of energy and security systems for high-performance buildings, and aerospace systems.
What does OptEEmAL mean for your organisation?
OptEEmAL's objectives have motivated UTRC Ireland to develop and demonstrate an optimised and integrated design platform for refurbishment at the district level. This has allowed UTRC Ireland to further develop and adapt its capabilities to meet EU buildings requirements while benchmarking and validating its building retrofit solutions against real-world applications. It also offers the opportunity to strengthen existing partner relationships, build relationships with new partners, and gain access to a broad network of technology and research collaborators.
What are your reasons for taking part in the project?
UTRC Ireland has a proven track record of successfully partnering with UTC's business units to develop and commercialise new concepts. Its mission is to create a strategic technology development presence in European markets on behalf of UTC. UTC, as a leading provider of HVAC and building automation and control solutions, realises significant business value and market opportunity from the services that will be provided through the OptEEmAL platform. The project provides the opportunity to expand and further improve current practices in the design and deployment of retrofit solutions in the HVAC business segments served by UTC.
What can your organisation bring into the project?
One of UTRC Ireland's core research areas is building and HVAC energy management, including system and component level modelling, optimisation-based control, and diagnostics. UTRC Ireland is actively engaged in research, development and real-world validation of advanced equipment and building control solutions with UTC's Carrier commercial business unit. Within OptEEmAL, UTRC Ireland is leading the activities around HVAC design and control strategies for optimal operation. These activities include:
(a) defining the input data required to properly model the existing systems;
(b) designing and implementing energy conservation measures to upgrade existing systems and their control strategies;
(c) developing models that describe the physical behaviour of the systems;
(d) developing a process and tool chain to simulate the performance of these systems for each retrofit scenario, taking into account the interactions with other platform components.
UTRC Ireland is bringing expertise and industrial experience in this area to develop and demonstrate design solutions that satisfy end-user objectives while meeting construction industry requirements.
Contact details:
United Technologies Research Centre Ireland, Ltd.
4th Floor Penrose Wharf Business Centre
Penrose Wharf
Cork, Ireland
www.utrc.utc.com
Hassan Ridouane
ridouae@utrc.utc.com | +353 21 455 1778
Marcin Cychowski
cychowm@utrc.utc.com | +353 21 455 1210